Management Principle
Management Principle"Contributing to International Society and
Continuously Increasing Our Contribution."
The "Management principle" of Mabuchi Motor encompasses the following beliefs:
Elevate our level of contribution to society and to persevere, as a prominent entity the world cannot do without.
All members of the Mabuchi Group shall participate in acts of philanthropy through their work.
Achieve growth as an individual, and a richness of the heart that is derived not solely through material wealth, but through the experience of caring for fellow human beings, Mother Nature, and all elements that sustain our lives.
The "Management Principle" is not only a guide for running our corporation but a gene to be carried down to subsequent generations of the Mabuchi enterprise.
Mabuchi's Management Vision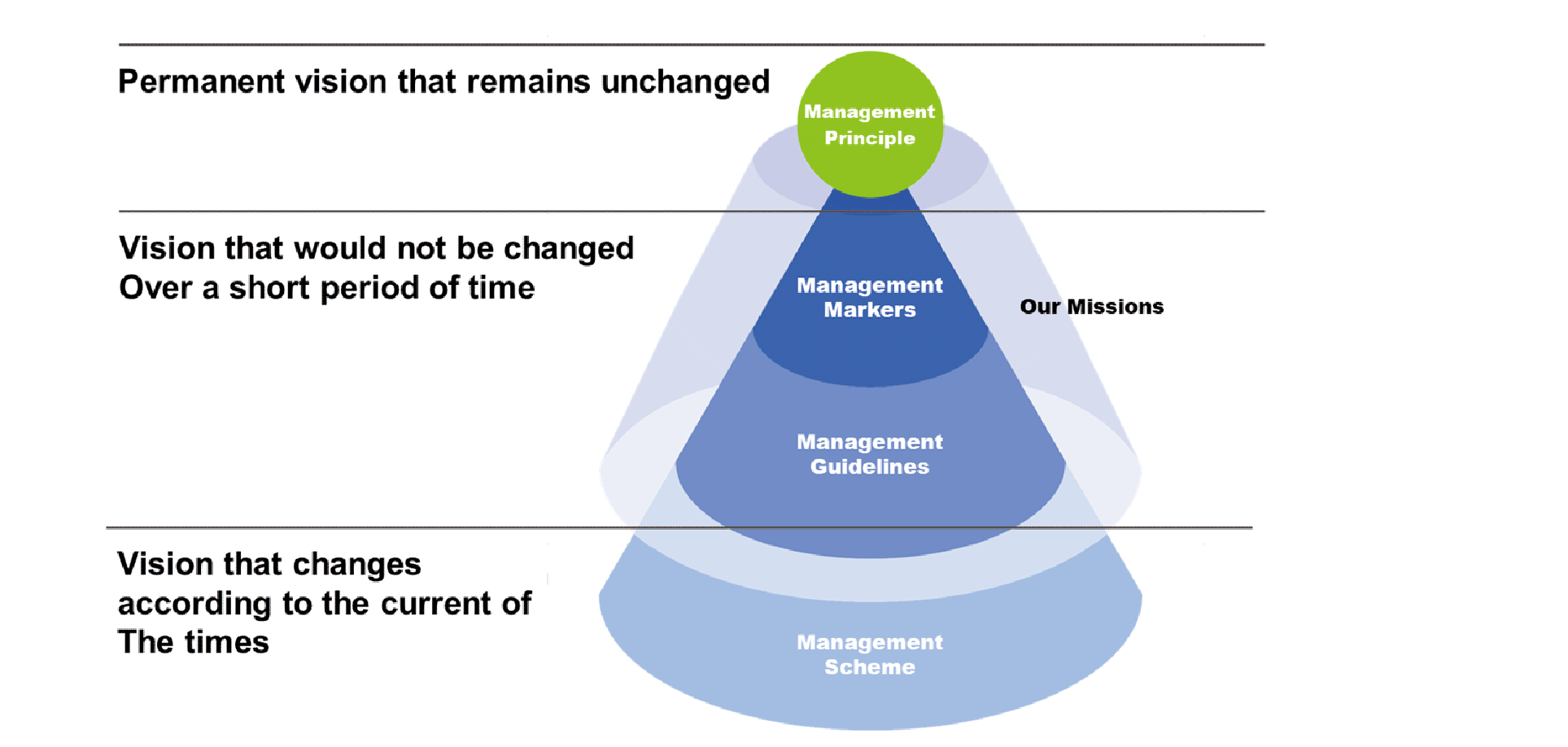 Management Markers
The "Management Guidelines" offer a direction for how to perceive and realize the "contribution" expressed in the "Management Principle." This guideline also states the services our business activities should aspire to perform. We aim to become a corporation that can continue to aggrandize this "contribution" and proceed in strength and perseverance.
By offering superior products that are reasonably priced, we contribute to the well-being, comfort, and convenience of people all around the world.
By fostering career opportunities and technological development, we address social and economic disparities around the world.
By placing highest value on our people, we empower and encourage them to realize their potential and contribute to society.
Through our corporate activities we protect our planet's ecosystem and the health of its inhabitants.
Management Guidelines
When a new "value" created through our business activities is recognized and received by society, is when the fruit of our contribution "profit," can be achieved. The management policies of Mabuchi Motor act as a starting point for our philanthropic activities as well as the healthy growth of our business.
Develop products that offer flexibility of application and optimize production conditions.
Improve product development based on thorough value analysis and standardization of parts and materials.
Realize cost reduction by using advanced processing technologies and by minimizing waste.
Pioneer new markets and secure sufficient market share in alignment with the company's values and strategy.
Cultivate the talent of our people by continuously matching the right person with the right opportunity.
Conduct business in a way that has the smallest possible environmental impact and that abides strictly by health and safety standards.
Enhance the company's sustainability through management policies and strategies that take a long-term view.
Management Policies for Overseas Operations
To promote co-existence and mutual prosperity on a long-term basis.
Solidify the structure of international production lines that parallel the strengths of each branch, and preserve and expand international competition.
Promote the Mabuchi corporate culture of philanthropy and support the transfer of knowledge and technology.
Our Missions - Common values to be shared among employees of Mabuchi
In the 21st century, a time when the field of competition will change dramatically, Mabuchi Motor promises to solidify our value as a corporation and become a staple enterprise to the world. To make this a reality, all employees must first understand the true nature of our management philosophy, to become an internal force that will power our ability to reach new heights. The below "missions" indicate common values for all Mabuchi Motor employees. These missions promote "self-growth" and should be observed in cases of difficulty and when overcoming obstacles.
Participate in philanthropic deeds through work and personal realization.
Be fair and just to others, and support and cooperate with fellow employees.
By reviewing one's own personal role, understand to whom and what form of contribution is most appropriate.
Build personal strength, which will become the source of philanthropy. Continue to build and cultivate this strength.
Independently excavate and unearth new projects, challenge yourself to difficult tasks, and persevere until success is achieved.
Management Scheme
For the future of the Mabuchi Motor, while sustaining a distinct "Mabuchi-ness," we propose to proceed by condensing our organizational strength through selection and concentration.
We believe that the diversification of our business activities is not possible without a contribution to society. The heart of our work does not reside solely in the realm of expanding sales. When our products are truly welcomed in the marketplace, the product of our contribution takes the shape of profit. We truly believe this view of management, and shall continue to support future endeavors based on this belief.
Extending Our Contribution through New Businesses
We hope to challenge ourselves in new spheres of business, by creatively combining the technology that we have cultivated over the years into new forms that are applicable for tomorrow's needs. By investigating resources outside of our walls, and measuring our in-house capabilities, we strive to develop new technological platforms. By refining our product and business skills, we in turn strengthen our own internal structure. Attentive to current technological trends, we invest our energy into business fields we believe Mabuchi Motors can excel. Our constant hope is to provide highly advanced technology, products, and services with a special touch of "Mabuchi-ness."
Expanding Our Contribution to Existing Businesses
By improving products and processes of our existing stratum of businesses, and by retaining unique high-technology of crucial components within our enterprise, we are able to accomplish the below endeavors which buttress our continued effort to raise consumer satisfaction:
Conduct prompt and timely, full-scale investigations in cases of troubleshooting.
Improve the efficiency and level of production from various perspectives, putting all of our Mabuchi Motor technology, knowledge, and networks to work.
Enhance our technological strength, service strength yet minimizing costs, consequently to reflect these improvements in our products.
Exerting Continued Strength
To construct a realistic and effective organizational power, it is imperative for all employees to carry a sense of autonomy, and responsibility when tackling a challenging, worthwhile project. Each employee with his or her own strength must exert a sense of leadership, and by sharing a common direction as a team, aim towards success. By maximizing the capacities of each individual, and by concentrating these unique forces into one, we are able to realize the "Mabuchi Strength."